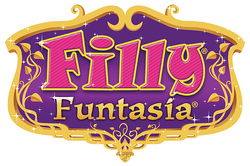 Filly Funtasia is an upcoming animated series, based on the long-lasting Filly brand. The lead plot follows Rose, Bella, Lynn, Cedric, and Will's experiences and adventures while attending the Royal Magic Academy.
It is difficult to determine in which country the show is made, but it is currently estimated that the production tasks are roughly even split between a Spanish side and a Chinese side. The Spanish side includes BRB Internacional, who are the international distributor of the cartoon everywhere except Germany, as well as the Filly brand "owners" on Iberia, and Screen 21, who are BRB Internacional's animation studio. The Chinese side includes Dracco, the owners of the Filly intellectual property, and who moved from Denmark to Hong Kong to get closer to its production factories, Black Dragon Entertainment, a Beijing animation studio that hopes to bring Chinese animation into the limelight, and Home Focus Development Limited, which is Dracco's division for copyrighting and trademarking[1].
Despite Filly's massive popularity in German-speaking countries, no German parties are currently known to be involved in the production. While Simba did function as a "special partner"[2] early on in the production, it is now Dracco who since January 2014 holds the toy sale rights for Germany. The series began production in 2012, and there are claims for it to start in 2016 in Italy, after a number of unexplained delays stretching back to early 2014. Several trailers have been released on YouTube, of which four are known as of 28th of March 2015.
See also: List of Filly Funtasia releases
Through quite a large selection of sources, it is known that Rose is beginning at the school, that Wranglum and Battiwigs are trying to steal the magic in the kingdom, and highlights such things as brewing potions, ending up in sticky situations, figuring out the (or their) magic mirrors, and falling in love for the first time. The various students' reason for attending the Academy has had several contradicting stories behind it, including mastering their crystal powers and that friendship is the biggest magic that exists.
The trailers for the show indicate loosely connected episodes and that the overarching plotline won't be in focus, akin to slice-of-life cartoons but highly unlike most anime shows. Two or three trailers have used content that each follow one apparent episode plot, with the October 2013 trailer showing a plot about stolen cupcakes and a monster who took them, the November 2013 trailer showing Rose on a hill adoring some butterflies and the Royal Magic Academy appearing out of the fog, and the October 2014 trailer shows Rose, Zack and Fabian stuck in a big cave they need to find a way out of.[3]
The October 2015 trailer was showing the characters and places of series.
The students' age level have been described as 'adolescent', and the vast majority of the students are among the newest generation, so to speak, in the toy line heritage trees.
Characters
Edit
For a list of the 25 known characters, see Filly Funtasia characters.
Differences from toys
Edit
Two of the main characters' names were changed from their earlier and contemporary merchandise appearances. Isabella was changed to Bella, and Willow adopted the nickname of Will. Cedric also resembles Strawberry and Elvin considerably more than his own toy design.
It was believed for about ten months that the background characters at the Academy added up to other toy figures, but there has recently been doubt to this theory. The character now known on the Filly Wiki as "Unnamed teacher" was for a long while considered the same as Loki, with no questions asked. When design and personality became subject to scrutiny, the assumed similarity was completely dismissed.
It remains to see how closely the show characters will be to their descriptions in toys and merchandise, but things like Will being very acrobatic is only visible in the show through an athletic behaviour, and Cedric has no swords in visible sight, though it is admittedly difficult to judge Cedric when he has a total of seven seconds of screentime in the four trailers and no speaking lines.
↑

Purely technically, HFDL is registered on the British Virgin Islands.

↑ BRB Internacional http://www.brb.es/en/news/brb-internacional-present-all-its-newest-properties-brand-licensing-europe-2013 "(...) and its success originating from Dracco's collectible figurines (with over 65 million figurine sold) is supported by special partners such as Simba Dickie Group in most of its territories and by over 45 licensees plus Dracco's own product ranges."
↑ A few scenes in the April 2014 trailer shows a wider range of scenes involving Zack and Fabian, but that trailer was more of a clipshow in which it still isn't easy to figure out which scenes belong to which episodes.
Ad blocker interference detected!
Wikia is a free-to-use site that makes money from advertising. We have a modified experience for viewers using ad blockers

Wikia is not accessible if you've made further modifications. Remove the custom ad blocker rule(s) and the page will load as expected.