Kirina is a female Unicorn Filly of Belucia, where she is oftentimes out in the garden to take care of wonderful daisy flowers that one would love the smell of. She also has the ability to make everything bloom and grow wherever she goes.
Romeo has great feelings for her and has been building up enough courage to give her an epic poem he has been writing. Most Filly material describes this as a one-way crush that he hasn't announced to her, although plotlines late in the Unicorn plot arc of the Filly magazine comics appear to have given this matter a happy end.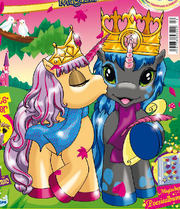 Ad blocker interference detected!
Wikia is a free-to-use site that makes money from advertising. We have a modified experience for viewers using ad blockers

Wikia is not accessible if you've made further modifications. Remove the custom ad blocker rule(s) and the page will load as expected.